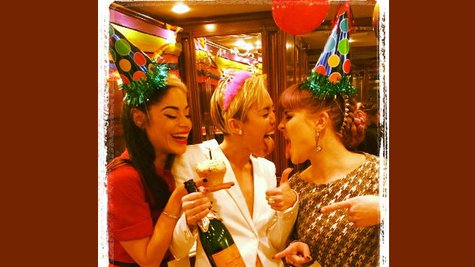 Most parents would freak out if their daughter decided to take up motorcycle riding, but if your daughter i s Miley Cyrus, really, what's left to freak out over?
According to Us Weekly , Miley's dad Billy Ray Cyrus gave his daughter a $24,000 customized Can-Am Spyder motorcycle for her 21st birthday this past weekend. He tweeted , "Can't wait to hit the open road on our @officialspyder!"
But that wasn't the highlight of her weekend: after Sunday night's American Music Awards, Miley went to a big birthday bash at Beacher's Madhouse at The Roosevelt Hotel in Los Angeles. Among the guests, according to E! Online : Kelly Osbourne, Liam Payne and Niall Horan of One Direction , Emma Roberts, Wiz Khalifa , Amber Rose, some dude dressed as the Dr. Seuss character The Lorax , and many little people, plus a professional twerk team.
According to E!, the guests wore masks with Miley's face on them, and the birthday cake featured a nude representation of Miley, with her private parts covered by marijuana leaves. Jeff Beacher and Miley's best friend Cheyne Thomas presented the birthday girl with a $150,000 Swarovski-encrusted, gold-dipped three-liter bottle of champagne.
Copyright 2013 ABC News Radio