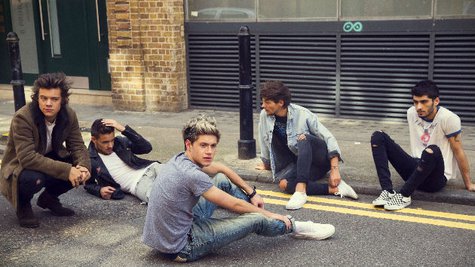 While the guys in One Direction constantly deny that any of their members is planning to leave the group for a solo career, somebody who knows them pretty well predicts that one day, 1D as we know it will come to an end: Simon Cowell
Cowell was a judge on the U.K. X Factor where the group was put together in 2010, and signed them to his label, Syco Music. In the new Billboard magazine cover story on One Direction, Cowell says, "Eventually, they probably will split up, and maybe want to have their own careers. The choice is theirs, and they've got the opportunity to do both." But, he add, "I hope they stay a band for a long time."
Right now, it looks as though there's no end in sight for 1D -- as Billboard notes, they've just renewed their label deal for another three albums, and a new one could arrive in November of 2014. As Liam Payne tells Billboard , "We just love what we're doing right now. We've got no intention to change that."
And Louis Tomlinson adds, "Who knew we would be here three years ago? We're just going to focus on tomorrow and go from there."
And even though constantly traveling can get old pretty quick, the guys say they keep each other from getting too homesick. "Luckily, I have my four best mates on the road with me to keep me from getting lonely," says Niall Horan . "But of course, we all miss home at times. Who wouldn't, being on the road all year long? Wouldn't give it up for anything, though."
Copyright 2013 ABC News Radio