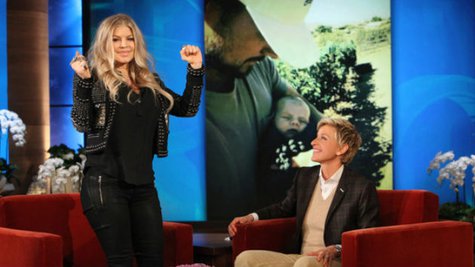 When Fergie and her husband Josh Duhamel welcomed their son Axl Jack a few months ago, most people assumed the kid was named after singer Axl Rose of Guns N' Roses fame, since Fergie is a big fan of the group. Well, it turns out that he is named after Axl, but, as Fergie revealed Wednesday on The Ellen DeGeneres Show, the initial idea for the name came to her in a dream.
Fergie told Ellen that in her dream, she was "in the audience at this festival" where rock and roll legends, some of whom are no longer with us, were performing. "It was outdoors and it was all grimy and nobody knew who I was. I was just one of the fans. It was like the old days. It was so cool," she described. "And on stage singing was Jim Morrison and then came Bob Marley and then Axl Rose . I mean, I was in heaven in this dream!"
The singer continued, narrating her dream, "I'm dancing and just getting into the music and then all of a sudden, boom! Boom! And I wake up and it was the first time my son kicked me. It was like he was feeling the music with me. It was amazing. I'm gonna start to cry! It was really beautiful."
Fergie says she was so excited that she woke Josh up to tell him about the kicking, and about the dream. "He was like, 'Whoa,'" Fergie told Ellen. "And he's like Morrison....Marley...No, 'Axl Jack.' He's like, 'That's it!'"
Having previously decided on the middle name of Jack, Fergie says she was soon convinced that naming their kid after the notoriously volatile, big-voiced Guns 'n Roses frontman was the right decision. She described being in the hospital delivering Axl via C-section, with Josh on the other side of the curtain, so he got a look at the baby first.
"I see Josh, and he's going, 'Aw,' I'm going, 'Wow, I'm so happy. This moment is so special, so tender,'" Fergie told Ellen. "And I hear. "Wah! Wah! Wah!' And over the side [of the curtain] comes Axl, and he's screaming at me, crying...And I went, 'Okay, the name works!'"
Copyright 2013 ABC News Radio
video platform video management video solutions video player