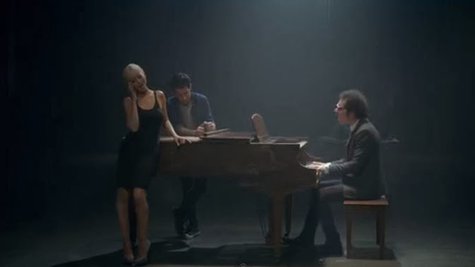 Christina Aguilera and the duo A Great Big World are getting to be a regular trio. First, they teamed up on The Voice to perform "Say Something," and now they'll do an encore for this Sunday night's American Music Awards.
They're just the latest performers announced for the show. Katy Perry will open the telecast and Miley Cyrus , who turns 21 on Saturday, will close it. In between, viewers will see performances from Florida Georgia Line , Lady Gaga , Ke$ha , Imagine Dragons , Kendrick Lamar , Jennifer Lopez , Macklemore & Ryan Lewis , One Direction , Rihanna , Ariana Grande , Justin Timberlake , TLC , and Pitbull , who's also hosting the show.
Tune in Sunday night at 8 p.m. ET on ABC to catch the performances, but if you want to see Christina and A Great Big World sing together now, you're in luck: their video for the song has just been released . Christina wears a simple black dress and slicked-back hair in the clip, which intercuts footage of her and A Great Big World singing with shots of different people looking very sad, as well as water -- representing tears -- and a couple going through hard times.
Copyright 2013 ABC News Radio