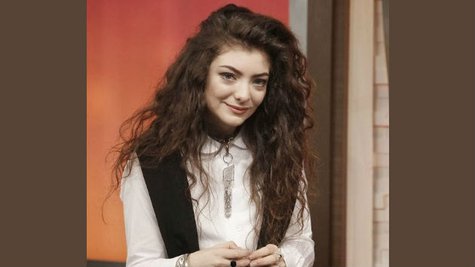 The soundtrack to the first Hunger Games movie was a huge hit. The soundtrack to the sequel, The Hunger Games: Catching Fire , is out on Tuesday, and with big names like Christina Aguilera , Imagine Dragons , Ellie Goulding , Coldplay and The Lumineers on board, there's no reason to think it won't also be a success -- even if some of the songs on it are "creepy and weird."
At least, that's Lorde 's description of her contribution to the disc, a remake of Tears for Fears ' massive hit "Everybody Wants to Rule the World." The 17-year-old singer was born more than ten years after the original song topped charts worldwide, but she says she was thrilled to cover it because, surprisingly, she claims to be a big fan of the English synth-pop duo.
"Oh yeah, I was," she tells ABC News Radio when asked if she was familiar with the original version of the song. "I mean, I love Tears for Fears, they're amazing: one of those classic groups who were so good at doing the pop thing in a cool way."
Asked how she made the song her own -- how she "Lordified" it, if you will -- the singer laughs, "I dunno, we just made it really creepy and weird." She's not kidding: her version of the song is dramatically slowed down, and has none of the shiny, upbeat pop sound that characterized the original.
Lorde is quite picky about the projects she chooses to involve herself in -- she even turned down the chance to open for Katy Perry on her upcoming world tour, as you may recall. So why sign on to the Catching Fire soundtrack? "I think the film is really cool," she tells ABC News Radio. "I think it's like, the really cool blockbuster out there. There are really cool people on the soundtrack alongside me."
The Hunger Games: Catching Fire , the movie, will be in theaters Friday.
Copyright 2013 ABC News Radio