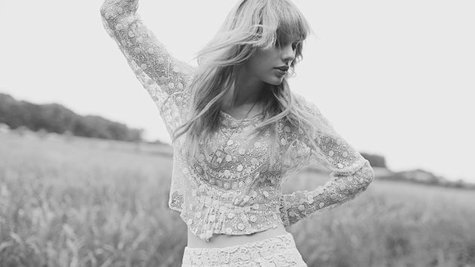 If it's amazing to you that Taylor Swift 's new movie The Giver will find her acting alongside Oscar-winning Hollywood legends like Meryl Streep and Jeff Bridges , well, that's OK -- because Taylor can't believe it either.
Speaking to Access Hollywood about her experience making the film, Taylor said, "I couldn't believe it was happening to me. I still can't believe I shot in South Africa and shot all my scenes with Jeff Bridges. It was unreal. Seriously, I couldn't believe I got to be a part of the experience."
As for how she prepared for sharing the screen with such high-caliber actors when she's a relative newbie to acting, Taylor explained, "I just tried to work as hard as I could and just throw myself into that environment as much as I possibly could and it was really long hours and it was a lot of preparation and getting into character and all that." And though Taylor says that she's actually taken acting classes, hands-on experience just can't be beat.
"I learned so much," she tells Access Hollywood. "It's crazy how educational just getting into a situation and doing it [is]....you learn more by actually doing it than you could ever learn in preparation."
The Giver is based on the popular young adult novel by Lois Lowry . It tells the story of Jonas, a boy living in a futuristic society that has eliminated all pain, fear, war, and hatred, but also any sort of personal choice. He's mentored by a man called The Giver, who passes on to him all the stored memories of their society. Bridges plays The Giver; Taylor plays Rosemary, the last teen mentored by The Giver before he meets Jonas. The movie arrives in theaters next August.
In other Taylor news, she joined her pal Ed Sheeran onstage Friday night during his gig at New York City's Madison Square Garden to perform their duet "Everything Has Changed." He later posted a photo of them together on Instagram, writing, " Thank you to ms. Swift for being the surprise guest this evening!"
Copyright 2013 ABC News Radio