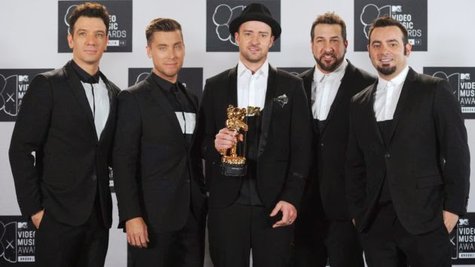 The second 'N SYNC reunion of 2013 took place over the weekend. US Weekly magazine reports that all the members of the boy band reunited at group member Chris Kirkpatrick's wedding.
According to US Weekly, Chris and his girlfriend, Karly Skladany , tied the knot in Orlando, Florida on Saturday night. The rest of his 'N SYNC bandmates -- Lance Bass , J.C. Chasez , Justin Timberlake and Joey Fatone -- served as both groomsmen and ushers for the ceremony. Justin's wife, Jessica Biel , also attended. Chris and Karly have been dating for over three years.
This leaves J.C. Chasez and Lance Bass as the only unmarried members of the group, though Lance got engaged in September to his partner Michael Turchin . Lance recently told ABC News that he and Turchin plan to tie the knot next fall, and might possibly air the wedding on TV.
The last time 'N SYNC was publicly together was on August 25, when they performed at the MTV Video Music Awards as part of a segment where Justin received the Video Vanguard award. So far, the group hasn't indicated that they plan to perform together again any time soon.
Copyright 2013 ABC News Radio