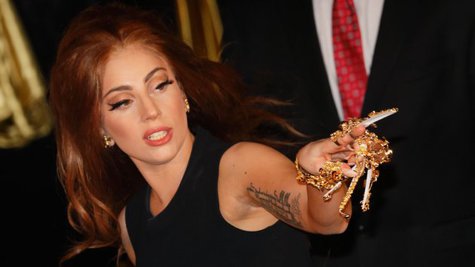 Remember that feud between Lady Gaga , Kelly Osbourne and her mom Sharon Osbourne back in January? Yeah, it's still going on: Kelly bashes Mother Monster in the pages of the new issue of Cosmopolitan magazine.
To recap, Kelly criticized Gaga's fans in the pages of Fabulous magazine for bullying her online after she dissed Gaga's looks on her E! show, Fashion Police. Gaga responded by posting an open letter to Kelly on her LittleMonsters.com website defending her fans, and taking Kelly to task for appearing on what she described as a "negative" show like E!'s Fashion Police . Then Sharon got into the act, revealing that she'd privately asked Gaga's manager to ask Gaga to tell her fans to stop making death threats against Kelly, to no avail.
Kelly, who's the cover girl for Cosmo's July issue, says inside the issue that she once loved Gaga, but now realizes that she's "a great big hypocrite." She explains, "Don't say, 'When you see bullying, intervene,' while letting your fans send me death threats. If my fans did that, I would not stand for it."
Kelly continues. "You can say whatever you want with your millions of monsters. I know the truth. Your bells and whistles mean nothing to me. You're feeding on the freaks and geeks to further your career? Do you really care about the gay community? Because if you did, you'd stand up for it more than you do."
Gaga has yet to respond to Kelly's criticism, but then again, she's been very quiet since her hip operation earlier this year.
Copyright 2013 ABC News Radio