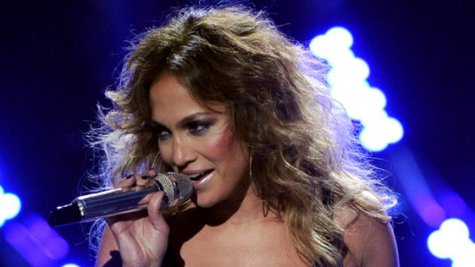 Is Jennifer Lopez too hot for British TV? A Tuesday night appearance on Britain's Got Talent has drawn some viewer complaints.
E! Online reports that Jennifer sang her new single "Live It Up" on the show, whose judging panel includes Simon Cowell . As usual, she wore a sexy costume -- a tight, high-cut bodysuit and thigh-high boots -- but it turns out some felt her getup was too sexy and her moves too provocative for the family-oriented show.
The British media watchdog group Ofcom told E! News that it had "received complaints" about the performance, which they are "currently assessing." At stake is the possibility that J-Lo's performance has violated the British broadcasting code.
The performance itself doesn't seem that different from the one Jennifer did on American Idol earlier this month. At one point, though, as she slides on her knees towards the edge of the stage, her groin area is essentially presented right in the center of the screen.
Jennifer herself apparently didn't see anything wrong with her performance: she posted an Instagram photo of herself and her dancers afterward, along with the message, "Thanks @GotTalent for a great night #liveitup."
Copyright 2013 ABC News Radio