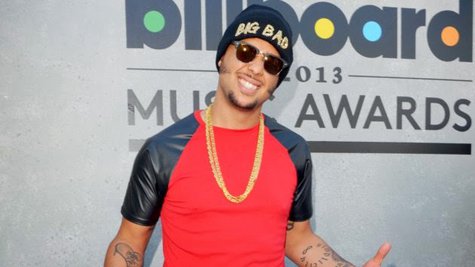 LMFAO may not be currently working together, but that doesn't mean there's any drama between Redfoo and SkyBlu , who in real life are uncle and nephew, respectively. In fact, even though SkyBlu is readying a solo album, he says an LMFAO reunion may take place sooner than you think.
"We're family. I love Foo; he loves me," Sky told ABC News Radio at the Billboard Music Awards. "We see each other at Christmas and everything, and we're good...you guys might see something from LMFAO in the near future, so it's all good."
In the meantime, Sky's first solo album is coming out July 4, and he says he has three, count 'em, three singles out: One's called "Pop Bottles," another's called "Alcohol," and another one is a Spanish song he did with actor Wilmer Valderrama called "Salud," which means "Cheers" in Spanish. And if you're sensing a common theme here, Sky says don't worry: His album won't consist of only songs about partying.
"It really shows the spectrum of who I am," he says of the solo disc. "And so yeah, I release a lot of drinking songs and stuff, but I really want to [use these songs to] transition my fans into my record and make them comfortable. So when they hear it, it's like, 'Wow, I didn't see this coming, but I understand,' you know what I mean?"
While Sky's working on his music, Redfoo is also keeping busy. He just signed on to be a judge on the Australian version of The X Factor, and he's also working on his tennis career, attempting to qualify for the 2013 US Open as a wild-card entry. The qualifying tournament takes place next month, and Sky says his uncle's the real deal on the court.
"Yeah, he's been a great player," he tells ABC News Radio. "I remember seeing him win first place in, like, a few contests. He's awesome."
Copyright 2013 ABC News Radio