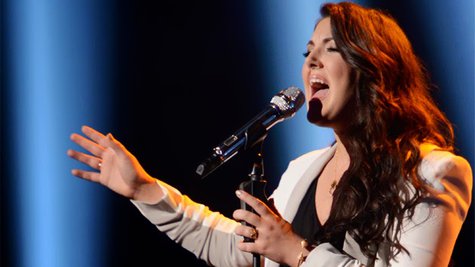 Each year on American Idol, at least one contestant ends up with a nickname, usually bestowed upon them by Ryan Seacrest or, occasionally, one of the judges. This year, it was runner-up Kree Harrison who hit the nickname jackpot: She'll now and forever be known as "Kreedom," thanks to judge Nicki Minaj . Kree says she doesn't mind -- and she also likes all the other variations she's heard on her unusual name this season.
"I think all of the Kree nicknames are funny," she told ABC News Radio backstage at Live with Kelly & Michael. "There's, like, 'Kree-per,' that's my favorite. 'Kree-ture,' 'Kree-ation,' 'In-Kree-Dible,' there's so many. But yeah, my family calls me Kree-dom now! I'm like, 'What?'"
As for whether or not she felt honored that she was the only contestant who Nicki proposed to, and the only one the judge called her "wife," Kree laughed and said, "Of course! Yeah, we've been engaged since Vegas!"
While Kree says that singing in front of the likes of Nicki, Mariah Carey and Keith Urban every week was great, she wasn't necessarily starstruck by them. In fact, she says there's only one person who appeared on Idol all season who she truly couldn't believe she got to meet: Motown legend Smokey Robinson .
"I was geeking out," Kree said of meeting Smokey. "I've never been starstruck in my life. I've lived in Nashville for 13 years; I've met a lot of people. I got to stand in front of Mariah Carey and she literally told me [she liked my singing]...I don't know, that was weird." But meeting Smokey, Kree says, was different.
"I was just, I was floored by what was happening. Yeah, I'm a huge fan," she says.
While Kree was also a fan of all four judges, and is happy she was one of the last two people ever to be critiqued by the departing Randy Jackson , she says she has no clue who should join the panel next season.
"I don't know. I mean, just the fact that, like, those four, this last season [were] so different, I feel like [the producers] know what they're doing. I think it's going to be awesome to figure out who it's going to be."
You can catch Kree on the upcoming American Idols Live tour, which kicks off at the end of next month.
Copyright 2013 ABC News Radio