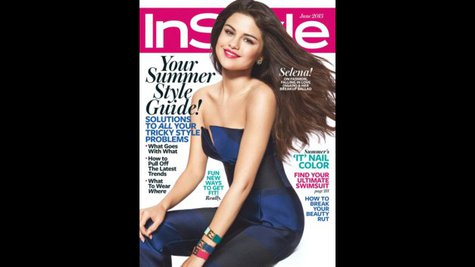 Some stars strut around in designer sweatpants that cost hundreds of dollars, but Selena Gomez isn't one of them. In fact, when it comes to her outfits, Selena says she's extremely thrifty.
"Somebody asked me about how much do I spend on clothes, and I really, actually, like being a little bit more cheap when it comes to my clothes," Selena says in a new exclusive video for InStyle magazine. But that's not to say that the singer and actress won't splash the cash when it comes to her accessories.
"When it comes to shoes or bags, that's definitely where I splurge," she admits. "I love buying a really pretty bag or a nice pair of shoes, and the rest of my outfit will cost, like, twenty dollars." Selena laughs, "I'm definitely that girl for sure. I'm a sucker for shoes and handbags."
Selena also tells InStyle that her current beauty inspirations are Charlize Theron and Kate Winslet . "I just think they're so classic and it looks like that they have the most perfect skin in the world!" she says of their red carpet style.
As for her own style, Selena likes Dolce & Gabbana and Versace, and says she likes to "show a little bit of skin in a nice way." However, she admits, "The idea of trying to get on a best-dressed list stresses me out. I'm so nervous."
Selena's cover story for InStyle hits newsstands on Friday.
Copyright 2013 ABC News Radio