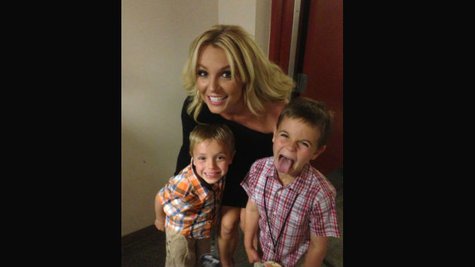 Britney Spears ' Las Vegas residency hasn't been officially announced yet, but the singer told Shape magazine that she's working out hard to prepare for it, and now she tells the TV show Extra that she's "stoked" for her new project.
"I am excited. I love Vegas any time I get to go there, so yeah, I'm excited, I'm stoked," she tells Extra . "I haven't done a show in a really long time, so it'll be a lot of fun." Britney says she's also excited about her new album which she's working on with will.i.am -- she says so far, they've done two songs together.
In addition, Britney told Extra about her workout routine, saying that her "main ritual is yoga," and her junk-food weaknesses, admitting, "I love white chocolate and I love potato chips!" Noting that it's hard to stick to her diet when her kids Jayden James and Sean Preston are around, Britney laughs, "The snacks just pile up and I'm constantly having to feed them. It's like, 'Jesus! I want some fried chicken too!'"
Speaking of Jayden, who's 6, and Sean, who's 7, Britney hinted that they just might follow their mom into the spotlight and become performers.
"They do like attention, so I think they would probably be good in the limelight," she tells Extra . "We're taking baby steps right now as far as agencies and stuff go, but they're little comedians, so we'll see."
Copyright 2013 ABC News Radio