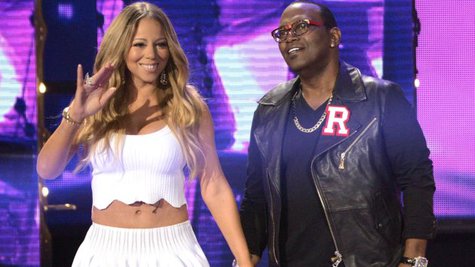 Randy Jackson and Mariah Carey don't just sit next to one another on the American Idol judges' panel: they're also business partners....or they were until very recently. Randy was serving as Mariah's co-manager, but that's apparently no longer the case. However, it wasn't drama that split them up.
Showbiz411.com reports that Randy, who's been friendly with the singer since the '90s, only came in to manage Mariah for two reasons: to help her negotiate her American Idol deal, and to help her get her new album together. Now that Idol is winding down for the season and Mariah's album is close to being released, she simply doesn't need him at the moment.
"They are very close friends. There is no problem or friction between them. She didn't dump him or oust him," Showbiz411.com reports.
So with Randy out of the picture, who's controlling Mariah's career now? Both Showbiz411.com and The Hollywood Reporter say that the singer's signed with Red Light Management, a high-powered firm whose clients include Dave Matthews , Tim McGraw and Grammy-nominated rock band Alabama Shakes .
Copyright 2013 ABC News Radio