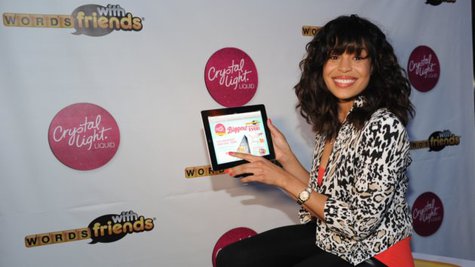 Anyone who follows Jordin Sparks on Twitter knows that she loves to play the online game Words with Friends , which is similar to Scrabble. That's why she spent Wednesday night at an exclusive party in New York City launching what's billed as the "World's Largest Group Game" of Words with Friends.
Explaining why she's such a fiend for the game, Jordin tells ABC News Radio, "I've always been a words person...I love Scrabble . I love crossword puzzles, I've always loved that type of thing so when I discovered Words with Friends ...I was like, 'I cannot wait to tell everybody to play this.'"
Jordin says she doesn't feel bad about constantly playing an online game like Word with Friends , because she thinks it's "educational." "It's fun and you learn things," she laughs. "Even if you don't think so. Like, you're trying to figure out words and you're trying to you know do the math on how many points you can get. So it's actually not just a mind-numbing game, it's definitely...stimulating."
The singer and actress says her best moment in the game was when she earned 170 points just by making the word "jail," thanks to triple-letter and triple-word scores. "It was a great day!" she recalls. But she says she's not the best player she knows: that would be her grandfather, who, she admits, is "kicking my butt" constantly.
The group game is being sponsored by Crystal Light Liquid, another thing that Jordin loves, and it's running right now through May 14. For the first time, you'll be able to win prizes while playing, including fabulous vacations to waterfront destinations. "The fact that Crystal Light is a part of it, they're going to send [players] to 'liquid destinations'," Jordin laughs. "I thought that was pretty smart!"
Jordin says she hopes to release a new album in the fall. It'll be her first since 2009.
Visit CrystalLightLiquid.com to play, and to register to win.
Copyright 2013 ABC News Radio