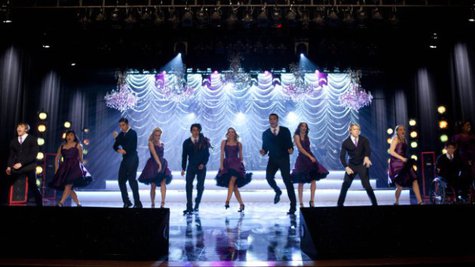 We caught a glimpse of her in last week's episode, but American Idol season 11 finalist Jessica Sanchez is front and center on the Glee season finale, airing Thursday. She plays Frida Romero, the "secret weapon" of a rival school's glee club, the Hoosierdaddies -- get it? Who's Your Daddy?
During the Regionals competition, Frida and her group will face off against New Directions. She and the Hoosierdaddies will perform two numbers: a version of "Wings" by the British girl group Little Mix , and "Clarity," by DJ Zedd . New Directions' Regionals numbers, meanwhile, will include The Script's "Hall of Fame," an original song called "All or Nothing" -- which Marley supposedly writes and sings as a duet with Blaine -- and "I Love It," by Swedish duo Icona Pop .
"I Love It" has been everywhere lately: it was the theme for JWoww and Snooki, it was featured on Girls, and Icona Pop have appeared on Good Morning America and Dancing with the Stars to perform it as well. Asked why so many people are connecting with the song, Icona Pop member Aino tells ABC News Radio, "I think a lot of people can relate to it. It's a song about coming out of a really rough heartache, and I think [it's] kind of empowering in that way. There comes a day when you're down, and you start to feel a little bit stronger, and I think you can really hear the anger behind that song."
Aino's musical partner Caroline says as soon as one of their producers played them "I Love It," they, well, loved it. "We were like, 'What a minute. What's that? We love that! We're going through that right now. They're singing our song. We need to have that one,'" she tells ABC News Radio. When they recorded it, Caroline says they told their producers that they wanted people to "feel the heartache, but also the empowering feeling of it."
"It couldn't [have] come out better," she declares.
Meanwhile, in the Glee episode, Rachel goes for her final callback for Funny Girl, and her audition number will be Celine Dion's "To Love You More," which actress Lea Michele has been wanting to sing on the show for quite some time.
Guest stars in the episode include Patty Duk e and Meredith Baxter , who play a lesbian couple who give advice to Kurt and Blaine. Apparently, Blaine hasn't abandoned his idea of proposing to Kurt, even though Kurt's dad told him it was a ridiculous idea in last week's episode.
Finally, it's rumored that this episode will see one character bid farewell to the show...at least for now. Rumor has it it's Heather Morris , who plays Brittany and is reportedly pregnant in real life.
Glee airs Thursday night on Fox.
Copyright 2013 ABC News Radio