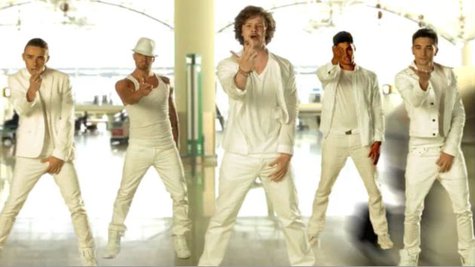 The Wanted has unveiled the video for their new single, "Walks Like Rihanna." If it looks familiar, here's the reason: the entire concept pays homage to classic videos by three other boy bands -- 'N SYNC , The Backstreet Boys and the British boy band Take That .
In the clip, The Wanted meet with their hot and sexy female director and start pitching her concepts for the video. The first one, which is described in a drawing as "fun and quirky," features the boys strung up like marionettes like 'N SYNC were in their video for "Bye Bye Bye." But everyone on the set thinks that idea's a major fail.
Next up, the Wanted pitch a more "mature" theme, which shows them dressed all in white, aping The Backstreet Boys in their video for "I Want It That Way." Again, nobody on set is buying the concept.
Finally, the guys stage a recreation of the video for "Back for Good," a huge hit for Take That. Again, it doesn't fly with the director and the crew. Finally, the director comes up with a concept of her own.
We next see the guys standing in what looks like an empty warehouse, surrounded by bright lights, while a sexy, scantily-clad vixen struts all around them. Guess who? It's the video director.
By the way, the video, which was shot a while back, does feature Nathan Sykes , who's currently on hiatus from The Wanted after undergoing surgery on his vocal cords.
The Wanted's new reality show, The Wanted Life , premieres on E! June 2.
Copyright 2013 ABC News Radio