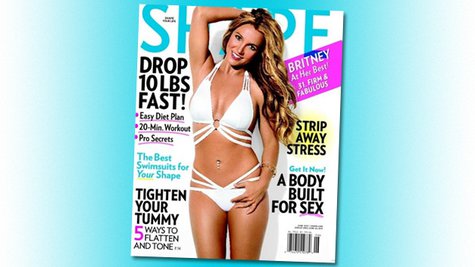 Britney Spears graces the cover of the June issue of Shape magazine , on newsstands May 20, and the former teen star looks better than ever, rocking a strappy white bikini and a pierced navel. Inside, she reveals her fitness secrets, and also confirms that she's definitely doing that long-rumored Las Vegas residency, starting this fall.
Explaining how she keeps her 31-year-old body in shape, the mother of two tells Shape that she does 90 minutes of yoga twice a week, as well as hour-long cardio sessions three times a week with her trainer. "The [Vegas] performances won't be simple -- they'll be a massive party from start to finish," she tells the magazine. "And to pull this off, I have to be in top condition and running at full speed."
And what about the music Britney enjoys listening to when she works out? She says Bruno Mars ' "Locked Out of Heaven" and Whitney Houston 's "I Wanna Dance with Somebody" are two current favorites.
Britney also reveals that she does Nutrisystem -- a shake for breakfast and lunch, plus protein and vegetables for dinner -- so she can avoid eating the snacks her two sons enjoy, like chocolate chip cookies, for example. "I try not to make those too often or I'll eat the whole bowl of dough," she tells the magazine.
You can read more about Britney's workout routine and plans for Vegas in the June issue of Shape.
Copyright 2013 ABC News Radio