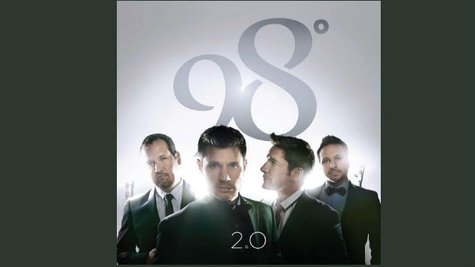 New Kids on the Block recently scored a top 10 album. The Backstreet Boys are readying a new project with returning member Kevin Richardson . Justin Timberlake 's back on top of the charts. With all this veteran boy band activity, it seems like a great time for 98 Degrees to return with their first new album in more than ten years.
Last year, the group -- Jeff Timmons , Nick and Drew Lachey and Justin Jeffre -- tested the reunion waters by performing on NBC's Today show and at last summer's Mixtape festival in Pennsylvania. The response was so positive that the guys, who never actually broke up, decided to get back together for real. Their new album, 2.0, is in stores Tuesday, and it's their first collection of all-new material since Revelation , which came out in 2000.
Drew Lachey, who stayed visible during the last 13 years by, among other things, appearing on Dancing with the Stars, tells ABC News Radio, "We've been talking about [a reunion] for a couple of years now. It's always been like, 'Oh, we want to do something together, we want to get back together, we want to get in the studio,' it was just never the right time for all four of us."
But after their mini-reunion last year, Drew says, the response was so positive that, he says, "We were like, 'Alright, we gotta do this!'" And big brother Nick says it's something the band's fans have been wanting for a long time.
"The fans were really kind of clamoring for it," he tells ABC News Radio. "And you start to see some other groups get back together, so our fans started to get excited at the idea of us getting back together. And they wanted to see it happen." He adds, "'It motivated us to kind of get it done and do it sooner than later."
In their time away from the group, the guys have made solo albums, Nick's hosted TV shows, Justin ran -- unsuccessfully -- for political office and Jeff performed in Las Vegas. And Drew says all those activities have helped them become a better group.
"Coming back into this scenario, we've all kind of grown as men, grown as individuals and we've grown as artists as well," he explains. "So, honestly I think 2.0 kind of reflects this. This is the updated, newest version of 98 Degrees, where I think we're better than ever."
The new album features songs written by, among others, Bruno Mars and Ne-Yo . Describing their approach to the new disc, Justin says, "We wanted to work with some of the best people...we wanted to have some new flavors, stuff that sounded current, but I think it was also important to not stray too far away from our sound and make sure we didn't lose who we are as a group, and what our sound really is."
"Once we got in the studio we figured out how we were going to put 98 Degrees on [each] song," Drew explains. "It really was just an evolution for us, just kind of a growth from our last record ."
You'll be able to check out some of the group's new tunes live, when they join New Kids and Boyz II Men for this summer's Package Tour, which gets underway May 31. All three acts spent a day together earlier this year doing promotion for the tour, and the guys say they had such a great time that they can't wait to hit the road with the other boy bands.
"To be a part or associated with those two groups, to me is like -- it's almost like a dream come true," says Jeff, "I'm really looking forward to it." Justin adds, "There were so many jokes, I mean we just had a blast. Literally, your face was hurting and you know, just laughing all day long."
Says Drew,"If the tour was anything like that one day was, it's going to be just a lot of fun. And I'm sure that's going to translate onto stage as well."
Copyright 2013 ABC News Radio