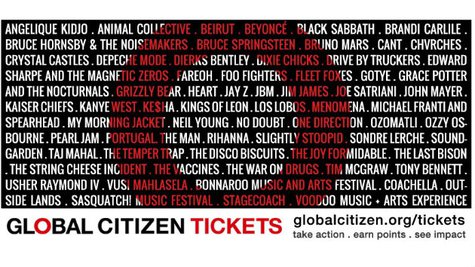 If lack of money is the reason why you can't go see some of this season's hottest concerts, don't worry: your favorite musicians will hook you up in exchange for a promise to help those truly in need.
Bruno Mars , Rihanna , John Mayer and One Direction are among the stars participating in a new program that will reward their fans for becoming social activists. The stars are offering up free concert tickets to fans who sign up for Global Citizen Tickets Initiative , which is designed to help to create awareness of issues related to extreme poverty.
Ke$ha , Jay-Z , Gotye , Usher , Beyonce, No Doubt and Kane West are also participating in the program, which allows fans to earn points for taking part in a variety of social actions -- like signing petitions or raising money for a designated charity -- in order to get into a lottery for free tickets.
A number of festivals also have offered up tickets for the program, including the Bonnaroo Music and Arts Festival, Outside Lands, the Sasquatch! Music Festival and the Voodoo Music + Arts Experience.
Visit GlobalCitizen.org/Tickets for more information.
Copyright 2013 ABC News Radio