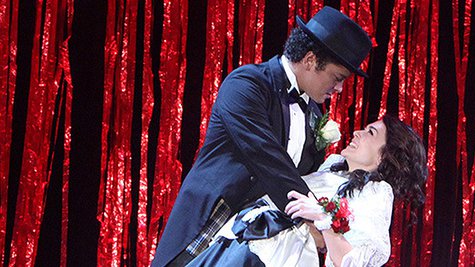 Earlier this year, Michigan teen Emily Torres made a YouTube video asking Ellen DeGeneres to help arrange for Bruno Mars to take her to her prom. Emily ended up appearing on Ellen's show along with Bruno in February, and at that time, he said that his schedule wouldn't allow him to attend, but he promised to hook her up with concert tickets, backstage passes and a Gucci dress to wear to the event. Now, Emily is selling that dress to help someone in need.
Michigan's Times Herald reports that Emily is auctioning off the $4,000 prom dress on eBay to raise funds for Collin Vani , a student at a different high school who's battling a rare form of cancer. The starting bid was $1,000 -- when we last checked, it was up to $1500. The auction ends April 5.
"I was blessed by the gift and I just want to keep passing on the blessing...pay it forward," Emily told the paper. "I think it would end the Bruno story on a good note."
In fact, Emily has never met Vani, but she knew about him and his illness even before she got to meet Bruno. "I think this will just tie our schools together and unite us even more," says the high school junior. Colin's mother is on board with the plan, and says she's "honored" that Emily would do something like that.
"I think she's a very special young lady," said Mrs. Vani.
So far, Bruno hasn't commented on Emily's auction.
Copyright 2013 ABC News Radio