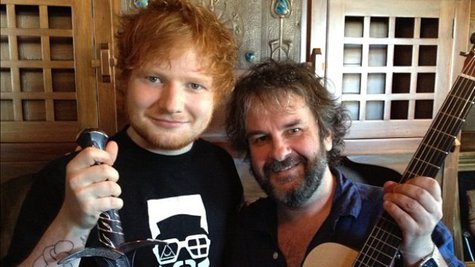 Ed Sheeran has played at the Olympics with members of Pink Floyd, performed at the Grammys with Elton John, and gets to duet every night with Taylor Swift on tour. But while appearing on Live with Kelly & Michael on Friday, Ed said all of that pales in comparison to the time he got to meet Oscar-winning Lord of the Rings director Peter Jackson.
Ed posted a picture of himself with Jackson, who also directed The Hobbit , on Instagram earlier this month. He told Michael Strahan and guest host Erin Andrews , "That was probably the coolest day of my career. When musicians meet other musicians there's always that bit of like, 'Cool,' but you never really get starstruck that much." However, meeting Jackson did the trick: as Ed said, "He took us in for dinner [and] he gave me a sword, which is cool."
Ed can be seen holding the sword in the photo with Jackson, while the director holds Ed's weapon of choice: an acoustic guitar.
During his appearance on Live with Kelly & Michael , Ed also played his new single, "Lego House." Discussing the meaning of the track, Ed explained to Erin and Michael, "The way I look at it, putting Legos together is like putting together a relationship, because you spend a long time putting it together and then in an instant it can break apart. And you don't really have a rule book to stick it back together because you usually chuck it away."
Copyright 2013 ABC News Radio