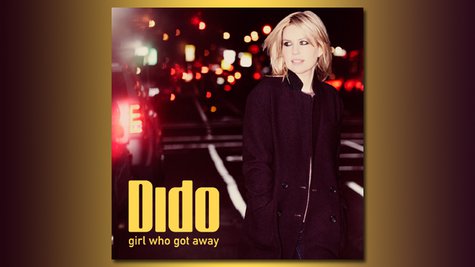 It's been quite a while since Dido released a new album -- five years, to be exact -- but now she's back with a new one, Girl Who Got Away. And she has a good excuse for the delay: she was busy being a new mom.
Dido has actually taken a while between each of her previous three albums, but she says her unexpected pregnancy -- her son Stanley was born in 2011 -- really threw her schedule off.
"On the first couple of records, I was touring for a few years each time and that's why I think it took so long but, yeah, this time I got sidetracked," she tells ABC News Radio, laughing. "I thought the album was coming out super quick and then I found I was pregnant and then I had a baby."
But Girl Who Got Away isn't filled with songs about motherhood and babies, because Dido wrote all the songs before she actually found out she was pregnant. She did record it while expecting, though, and she says she really loved that experience.
"I loved being pregnant. I had a brilliant time and I really enjoyed singing pregnant," she tells ABC News Radio. "I loved having this little friend sort of kicking away while I was singing and certain songs he'd just sort of sleep through, and certain songs he'd dance for." In fact, Dido says when Stanley finally arrived, he seemed to remember songs that she'd sung while he was in the womb.
"Especially when he was first born and I'd be sort of trying to calm him down...I'd sing a song like 'Girl Who Got Away,' which I sung loads when I was pregnant, and he would just immediately just sort of look straight into my eyes and just go completely quiet," she recalls, laughing. "It was like, 'Oh my God, it is like he recognizes it!'"
Speaking of the title track, Dido explains why that was the right name for the album. "I thought it was an evocative title, and I think everyone else around me definitely jumped on it, just because they feel like I do keep disappearing and then coming back," she laughs.
When Dido was scoring hits like "Thank You" and "White Flag," she was one of very few British artists on the U.S. charts. Now that she's returned, she's happy to see that there's been something of a British invasion of America, with artists like Adele , One Direction and others.
Noting that the U.S. charts are now more open to artists from the U.K., Dido says, "In the eighties it seemed they were really open and, you know, and then there was definitely a period of time where I think it was much harder for a British artist to be heard here. And yeah, I feel very, very lucky that I did get heard."
Copyright 2013 ABC News Radio