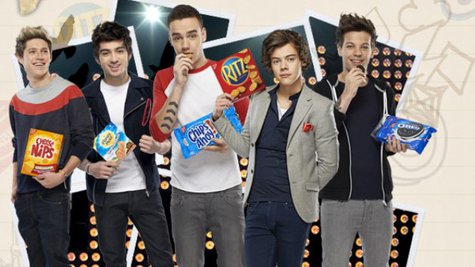 Do you love snacking? Do you love One Direction ? Are you good at social media? Then we've got the perfect job for you.
Nabisco, the sponsor for One Direction's upcoming North American tour, is searching for one lucky fan to be its " Nabisco Tour 1D VIP Correspondent." In that capacity, he or she would capture photos, videos and stories from each tour stop and share them online with fans across multiple sites, including the newly-launched 1DVIP.com .
Here's how to enter: visit the website, fill out an application, create a video explaining why you've got that "One Thing" that makes you perfect for the job, and then submit both to 1DVIP.com/search . You have until April 14 to submit your material, but sorry, you've got to be 18 and over to enter. The winner will be announced in May and hit the road with the guys in June.
According to Nabisco, ideal candidates will be "passionate and creative storytellers who love music, pop culture, snacks, travel and connecting with others via social media."
By the way, this job is so cool that you'd probably pay to have it. If you're selected, though, you'll be paid a salary of 40 thousand bucks. Not bad for a summer job.
Copyright 2013 ABC News Radio