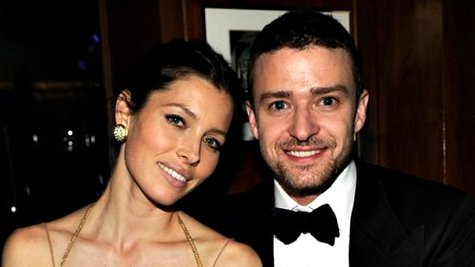 Going to Las Vegas with your buddies is fun. Going to Vegas with your wife or husband is a different experience. Maybe that's why when Justin Timberlake and his wife Jessica Biel hit Sin City recently, they split up for individual partying experiences.
People magazine reports this past Friday night, Justin and his boys arrived at Yellowtail Japanese restaurant inside the Bellagio hotel. He and his pals laughed, chatted, ate sashimi and stayed low-key, even when JT's hit "Suit & Tie" came on the restaurant's sound system.
Meanwhile, People reports that Jessica was in the same casino, dining at an eatery called Fix with her girlfriends at a bachelorette party, enjoying tuna tartare and wings. Justin and Jessica's groups eventually met up and went to a Cirque du Soleil show together, according to the New York Post .
The following night, Jessica and her buds showed up without Justin at Yellowtail, and after they ate, they headed to the 1 OAK nightclub at the Mirage Hotel. The group partied 'til 3am, sitting at a VIP table enjoying vodka, champagne and fireball cinnamon whiskey. As for Justin, according to the New York Post , he came down with a cold on Friday night and stayed in Saturday while Jessica was living it up.
Copyright 2013 ABC News Radio