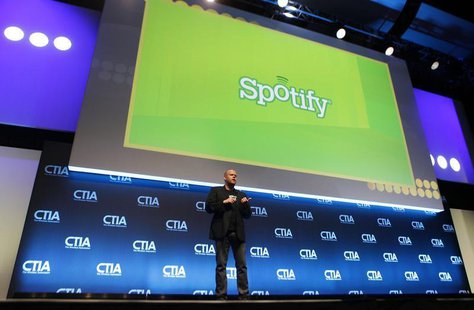 (Reuters) - On demand music service Spotify said it is launching its first advertising campaign on Monday, focusing on U.S. television to hook additional listeners.
Spotify is spending more than $10 million on commercials that will debut during the new season of "The Voice," a talent show for singers on NBC.
The commercials, created by the advertising agency Droga5, include a concert-goer crowd surfing in an endless sea of people and a guy dancing at a party.
When Spotify was founded in 2006 by Daniel Ek and Martin Lorentzon, the music service depended heavily on its integration with Facebook . Users needed a Facebook account to access Spotify though that is no longer the case.
With more 20 million active users - including 5 million subscribers who pay to listen the service ad-free and on different mobile devices - Spotify is seeking to gain share as competition from other streaming music services like
intensifies. Pandora has about almost 68 million active listeners.

Streaming and on demand music services are popular with consumers though the business model requires lots of capital for royalty rights. Spotify said in December it has paid more than $500 million to the music industry since its launch and that roughly 70 percent of its revenue goes back to music rights holders.

Meanwhile on Monday, Business Insider reported that Spotify is looking to expand to a video on-demand service similar to that of Netflix's , citing two unnamed sources.

Spotify CEO Ek said in an interview with CNET that it is something it will not be doing anytime soon. "I won't rule it out because we're a company that looks at what we're doing incredibly long term. But right now, we're all focused on music."

(Reporting by Jennifer Saba in New York; Editing by Marguerita Choy)