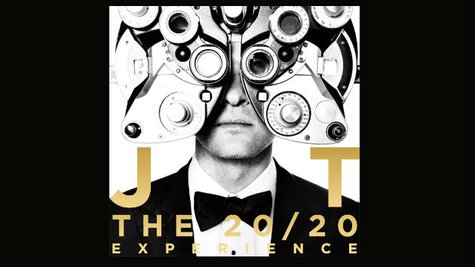 Justin Timberlake's album The 20/20 Experience is selling faster than even experts have expected. Billboard reports that the latest figures now put the album at 900,000 copies or more by the time the sales week is over.
Before the album was released, Billboard predicted that The 20/20 Experience would sell at least half-a-million copies in its first week, but after it hit stores, the publication revised its projections upward to 750,000, then 800,000, then 850,000 and now 900,000 copies. Even higher sales are possible as well.
At least one person is convinced the album will hit the one million mark: JT's tour partner Jay-Z. He tweeted , "JT x 1 million? Getting my "Suit and Tie" ready for the celebration." But Justin himself isn't so sure: he replied , "Is that the D'USSE talking? Haha! You're out of your mind, Hov!" D'USSE [dew-say] is Jay-Z's favorite cognac.
Either way, The 20/20 Experience is definitely going to be the year's best-selling album to date when the final numbers are released later this week, and it'll be Justin's best sales week ever as a solo artist. Of course, he has a long way to go if he wants to beat the kind of sales he posted with his group 'N SYNC. They set the all-time best sales week in history back in April of 2000 when their album No Strings Attached sold an unbelievable 2.42 million copies in seven days.
Copyright 2013 ABC News Radio