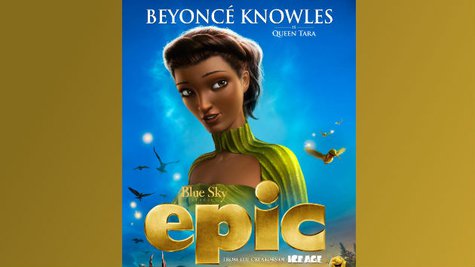 You've probably heard that Beyonce is lending her voice to the upcoming animated movie Epic . Well, now fans have the chance to get better acquainted with Bey's character, Queen Tara. "How Epic does my new animated movie look?" Beyonce asks her Facebook fans , posting the link for a new Epic trailer . Bey also shares a special movie poster that gives everyone a better look at Queen Tara, who dons a high ponytail and leafy green-colored dress in the movie.
Queen Tara is "the life force of the forest, which she presides over with respect, compassion and humor," according to the Epic website. When Queen Tara finds herself or her realm in danger, she taps into her connection to nature for help. In the trailer, Queen Tara sends a circle of, presumably bad, frogs flying into the air, when she crashes down on their lily pad. She also shares some wise advice, ensuring Epic 's main characters, "You're here for a reason. Sometimes the connections aren't clear, but they're always there."
Epic arrives in theaters on May 24. The film also features the voices of Steven Tyler , Aziz Ansar, Amanda Seyfried , Jason Sudeikis and others.
Copyright 2013 ABC News Radio