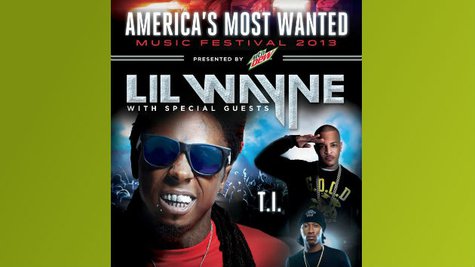 Things sure have turned around for Lil Wayne . A week after TMZ reported that the YMCMB boss had suffered multiple seizures and was in the hospital, Weezy sent a video update to the site.
"I'm good... more than good," Wayne assures fans in the clip, adding that his tenth studio album, I Am Not a Human Being II , is coming out Tuesday. "You go get that s**t if you want, if not, it's whatever."
Weezy isn't letting his health scare stop him from promoting his new project, in fact, he'll be heading out on the road, and he's not going alone. This summer Wayne say he will kick off his "America's Most Wanted tour, with some of my closest friends in the game."
One of those friends is T.I. , who joins Wayne on camera to let fans know that the tour kicks off July 5. "Barbeque on the Fourth, come holla at us on the fifth," Tip says, mean-mugging the camera.
Before closing out the clip, Wayne once again thanks his fans for their thoughts and concern. "Thank you for real. Thank you to all y'all out there for your prayers and all that. I'm more than good. I swear to God. Thank you," he says.
Apparently T.I.'s anger with TMZ didn't cause him to boycott the website entirely. When reports were flying about Wayne's health condition, T.I. took to Twitter to unleash his wrath on TMZ after the site reported incorrect information about the situation.
Copyright 2013 ABC News Radio