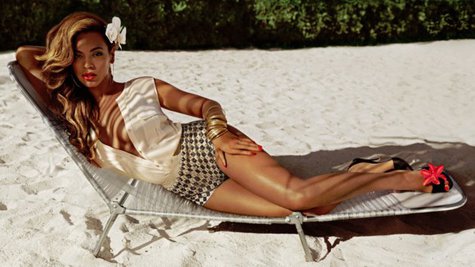 When Beyonce was spotted doing a photo shoot in the Bahamas back in January, word had it that she was working on something with fashion retailer H&M. Well, the rumors were true, and looking back on the shoot in Nassau, Beyonce says in a statement, "It was a beautiful shoot on a tropical island. It felt more like making a video than a commercial."
The visual, which shows off the H&M summer collection that Beyonce helped design, features a new song from the singer. Titled "Standing on the Sun," the track will be available worldwide online beginning in May. That's around the same time that the Beyonce-inspired clothing line will arrive in H&M stores.
"I've always liked H&M's focus on fun and affordable fashion," Beyonce says. "I really loved the concept we collaborated on to explore the different emotions of women represented by the four elements -- fire, water, earth and wind."
What Beyonce and the H&M team came up with features several warm-weather looks, including a bodycon dress, flowing sun dress and fringed bikini. In one just-released image, Beyonce -- stretched across a beach lounger -- shows off a sleeveless shirt and patterned shorts from the collection. A flower in her hair completes the look.
Fans can expect "Beyonce as Mrs. Carter in H&M" billboards and print ads to pop up soon. The "Beyonce as Mrs. Carter in H&M" ad campaign nods to Beyonce's sold-out Mrs. Carter Show world tour, which kicks off April 15.
Copyright 2013 ABC News Radio