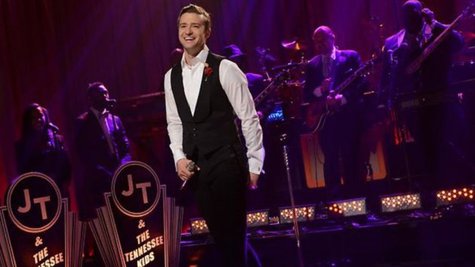 If you've seen Justin Timberlake 's new video for his song "Mirrors," you may have wondered about the dedication that appears at the very start: "For William and Sadie." Those are Justin's grandparents, who from the looks of the video may well be the inspiration at the heart of it.
The "Mirrors" video begins with an elderly man and woman moving in slow unison before flashing back to a 1950s pool hall, where the couple first meet. The next several minutes switch back and forth between the couple in their youth and in old age as they pass through different emotions, scenes and settings, including a room of fun house mirrors.
Justin himself doesn't appear until nearly six minutes into the eight-minute video, where the elderly woman drops a ring out of the frame and Justin catches it. The rest of the "Mirrors" video has him in a hall of mirrors, where he sings and interacts with mannequin-like female dancers on the other side of the mirror glass.
The video first premiered Tuesday night on the CW's special marking the release of Justin's new album, The 20/20 Experience .
Copyright 2013 ABC News Radio