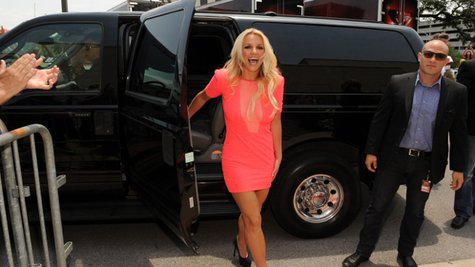 Looks like Britney Spears has a full social schedule for her upcoming trip to Las Vegas to inspect her future home at Planet Hollywood. The Las Vegas Sun's Robin Leach reports that while in Sin City this weekend, Britney will attend a huge benefit event and check out another major headliner's show at Caesars Palace.
Leach says that Britney will be one of the many celebrity guests at " One Night for One Drop ," a fundraising gala staged by the founder of Cirque du Soleil. It will involve 230 performers from numerous Cirque shows, plus guest performers, and the goal is to raise more than five million bucks for One Drop, a charity that works to ensure that everyone has access to clean water.
In addition, Britney will take in Shania Twain 's show at the Colosseum at Caesars Palace, the same theater where Celine Dion performs.
As previously reported, while in Vegas, Britney will be touring the theater at Planet Hollywood in advance of announcing an upcoming residency there.
In other Britney news, she'll soon grace the cover of Shape magazine. She tweeted , " @Shape_Magazine Thanks for the great photo shoot today! It was fun to get all dolled up for the cover!" She included a close-up photo of her hand getting a manicure with Chanel nail polish.
Copyright 2013 ABC News Radio