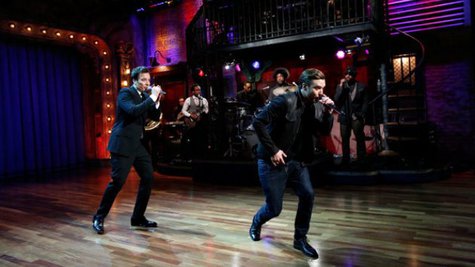 Justin Timberlake capped off an entire week of appearances on Late Night with Jimmy Fallon by joining Jimmy to perform the fourth installment of their wildly-popular "History of Rap" series, much to the delight of the crowd.
"History of Rap" features the two guys, backed by The Roots , performing snippets of more than 15 different classic rap tracks, one after another, in chronological order. This one started with The Sugarhill Gang and ended with Eminem's "Lose Yourself." Here are all the songs they performed:
Sugarhill Gang – "Apache (Jump On It)" - 1981
Grandmaster Melle Mel - "White Lines (Don't Do It)" – 1983
Kurtis Blow – "Basketball" – 1984
Fat Boys – "The Fat Boys" – 1984
Run DMC – "Its Tricky" - 1987
Beastie Boys - "No Sleep Till Brooklyn" - 1987
LL Cool J – "Going Back to Cali" - 1988
Slick Rick – "Children's Story" - 1989
2 Live Crew - "Me So Horny" – 1989
A Tribe Called Quest – "Scenario" – 1991
Cypress Hill – "Hand on the Pump" – 1991
Wreckx-N-Effect – "Rumpshaker" – 1992
Salt N Pepa – "Shoop" – 1993
Snoop Doggy Dogg - "Gin and Juice" - 1993
Busta Rhymes - "Woo-Ha! Got You All In Check" - 1995
The Notorious B.I.G. – "Hypnotize" - 1996
Missy Elliot - "Get Ya Freak On" – 2001
Jay-Z – "Izzo (H.O.V.A.)" – 2001
Nelly – "Ride Wit Me" - 2001
50 Cent – "P.I.M.P." – 2003
Chamillionaire – "Ridin Dirty" – 2006/Wiz Khalifa – "Black and Yellow" – 2010
Trinidad James - "All Gold Everything"
Macklemore and Ryan Lewis – "Thrift Shop" – 2013
Eminem –"Lose Yourself" – 2002
Jimmy and Justin also reminisced about everything else they'd done over the week, including a barbershop quartet version of Justin's hit "SexyBack," a summer camp skit and a performance with pop legend Michael McDonald .
Justin also appeared on BET's 106 & Park on Friday, and hinted that his collaboration with Jay-Z extends beyond just their single "Suit & Tie." "I was with Tim[baland] and we were working on stuff for Miss Beyonce ," he said. "And she made the mistake of letting Jay and I have another room at the studio. So, actually, I don't want to give too much away, but we've done a lot of songs together. So hopefully those will find a way to see the light of day."
Justin's media blitz was all designed, of course, to promote his new album The 20/20 Experience , which is in stores Tuesday and is predicted to debut at #1 with more than half a million copies sold.
Copyright 2013 ABC News Radio