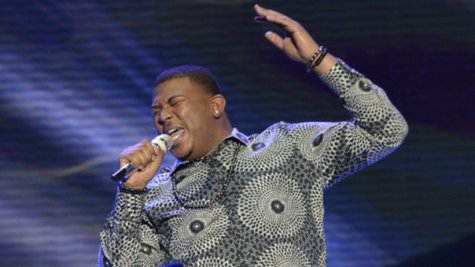 Last Wednesday on American Idol , Nicki Minaj showed up 20 minutes late and missed the first performance: Curtis Finch Jr. singing "I Believe." On Thursday, Curtis was eliminated, much to the dismay of Nicki who threatened to quit the show if he was voted off. But what if Nicki had been there on Wednesday, and had mobilized her devoted fans to vote for him? Would he have escaped elimination, as some have suggested? Curtis doesn't think so.
Asked if Nicki is partly to blame for his elimination because of her tardiness, Curtis told reporters during a phone press conference, "Absolutely not, because Nicki Minaj is not the only judge on the panel. At the end of the day, if I get done singing and the judges have no responses, it's still left up to America to vote for me."
Noting that he feels that everything happens for a reason, Curtis added, "I think things were really inevitable." However, he admitted that it made him "feel really good" that Nicki was so upset that she threatened to quit the show over his elimination. "Really, I sing from my heart, and I really felt like I've touched Nicki's heart in such a way that she didn't want to see me leave," he told reporters.
Mariah Carey is another judge who didn't seem to want Curtis to go -- she's tweeted messages of support to him since his elimination. So what did she say to him after the show? "She always gives me great feedback," said the singer. "And so she really didn't say anything different than she had been saying since I've been on the show; you know, that, to keep my head up, remain consistent and remain 100 percent authentic."
As for what's next for him after this summer's Idol tour, the 25-year-old from St. Louis said that he thinks the sky's the limit. "I would love to sit down in the studio and work with Alicia Keys , R. Kelly ," he told reporters. "Maybe go on Glee one time, do some acting, maybe Broadway." He added, "There are no limits when it comes to what I feel like I've been gifted to do and so we shall see. Tune in, guys."
But what kind of album does Curtis seem himself making? After all, on the show, he sang gospel and R&B. Which one of those would he choose? He says he'd rather look at his music in terms of emotions than in terms of genres.
"I see myself being a very inspirational type singer," he told reporters. "Just talking about love, just talking about how you can overcome and how you can make it. And so, don't really know what that entails at this moment, but I just know that I really live to inspire everybody across America."
American Idol returns Wednesday night on Fox.
Copyright 2013 ABC News Radio