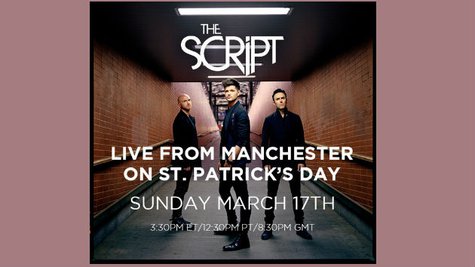 What's better than celebrating St. Patrick's Day by attending a concert by the Irish band The Script ? Doing it from the comfort of your own desk.
In celebration of St. Paddy's Day this Sunday, the band is streaming their concert in Manchester, England globally, starting at 3:30 p.m. ET/12:30 p.m. PT. You'll be able to tune in at the band's Facebook page , or at their official website .
"March 17, it's gonna be St. Patrick's Day, and we're broadcasting live on the Internet to the whole wide world," says lead singer Danny O'Donoghue , laughing, "No pressure, though! It's gonna be absolutely incredible."
The band has been asking fans to chime in on Twitter with suggestions for the first song they should play on Sunday. At least one fan has requested "Danny Boy," seeing as how it's St. Paddy's Day. You'll have to tune in and see which song they choose.
Of course, if you really prefer seeing The Script in the flesh, you'll have to wait until this July, when they hit the road with Train and Gavin DeGraw on Train's Mermaids of Alcatraz tour.
Copyright 2013 ABC News Radio