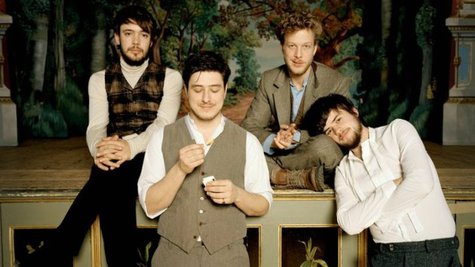 You know how everyone says that Phillip Phillips' song "Home" sounds a lot like Mumford & Son s? Well, it turns out the similarities are so uncanny that even a member of Mumford & Sons can't tell the difference.
Mumford & Sons keyboard player Ben Lovett says that the first time he heard "Home," he thought it was one of Mumford's songs. "I was like, 'What's that? Did we do that?'" he tells Rolling Stone .
Of course, "Home" isn't the only song out there that sort of sounds like Mumford & Sons -- The Lumineers' "Ho Hey" also has that folk-rock vibe. But Ben Lovett says that he'd hate to think that people are deliberately copying their signature sound just because it seems to be hot right now.
"[It] makes me a bit sad if people think that it's a good commercial move," says Ben. "It's about the songs, how we're expressing our songs with this kind of accidental selection of instruments. That's not like a formula to go and sell records."
For the record, Phillip didn't actually write "Home." He's also a fan of Mumford & Sons and The Lumineers, and says he's happy that more organic-sounding music -- played with traditional instruments -- is getting more popular.
Copyright 2013 ABC News Radio