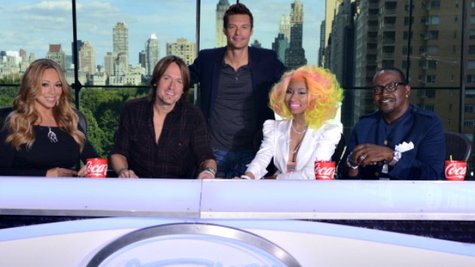 Curtis Finch, Jr. got the boot on American Idol on Thursday night's results show. The judges could have used their one save of the season to keep him around, but his retread of R. Kelly ' s "I Believe I Can Fly" wasn't good enough.
Nicki Minaj , who actually missed Curtis' entire performance Wednesday because she showed up late, seemed very angry when it was revealed that he was in the bottom two, and even vowed that she'd leave the show if he was voted off. Mariah Carey was also upset at Curtis' presence in the bottom two with Devin Velez .
When Ryan Seacrest announced that Curtis was the one in danger of elimination, Nicki got up from the table, walked away briefly and then came back. After Randy announced that the judges had decided not to use their save on Curtis -- a decision that he said was not unanimous -- Nicki complained that they hadn't had enough time to discuss it.
A total of twenty-six million votes came in after Wednesday night's performances. Angie Miller , Candice Glover and Kree Harrison were the top three contestants, according to the vote, but it was not revealed which one was number one. Oddly, the mayor of Kree's Texas hometown showed up to present her with a key to the city before she found out she was going forward in the competition.

For the first time on Idol , the contestants' actual ranking, in terms of number of votes, was revealed. Here's a rundown of how they fared:

4th -- Lazaro Arbos
5th -- Amber Holcomb
6th -- Janelle Arthur
7th -- Burnell Taylor
8th -- Paul Jolley
9th -- Devin Velez

In a new twist this season, Charlie Askew and Aubrey Cleland returned for a sing-off to compete for the 11th spot on the American Idol tour this summer. Charlie sat at the piano and sang the original song "Sky Blue Diamond," while Aubrey sang "Out Here on My Own" by Irene Cara from Fame . Fans can now vote online at AmericanIdol.com or on the American Idol app to decide who gets that spot.
The top 10 contestants performed the season's first group number, "Shine Your Way," a song by Owl City and Yuna from the soundtrack to the upcoming animated movie The Croods .
Bon Jovi took the Idol stage to sing "Because We Can," while last year's champ, Phillip Phillips , returned to sing his latest single, "Gone, Gone, Gone." Phillip was also presented with a quadruple-platinum plaque recognizing four million downloads of his hit "Home."
American Idol 's top nine contestants return for another round of competition next Wednesday night at 8 Eastern on Fox.
Copyright 2013 ABC News Radio