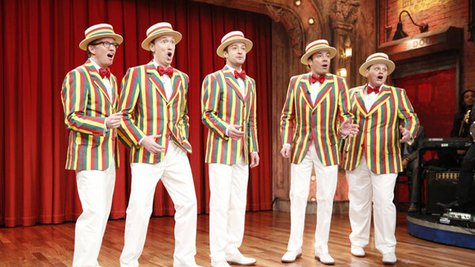 On Tuesday night, Justin Timberlake made his second of five appearances as the musical guest on Late Night with Jimmy Fallon . While JT and Jimmy Fallon didn't collaborate on another "History of Rap," installment, they did get together in response to a (phony) viewer suggestion to see a new take on barbershop quartet utilizing the music of the recording artist.
Timberlake, Fallon and two other singers took to the stage as the Ragtime Gals, and performed JT's "SexyBack."
The performer also belted out his single "Mirrors," from his upcoming album 20/20 Experience -- without the help of the rest of the quartet.
Copyright 2013 ABC News Radio