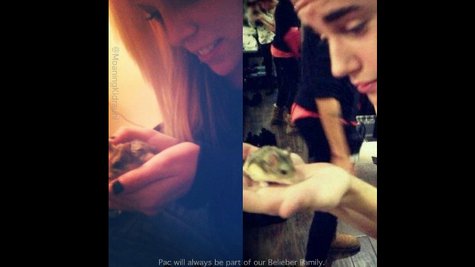 Sad news from the celebrity rodent world. Pac , a pet hamster once owned by Justin Bieber , has gone to the big exercise wheel in the sky.
Bieber gave Pac to fan and aspiring singer Tori McClure last December.
Tori tweeted on Monday night, "They say PAC probably won't make it much longer. He's like an old man. My feelings couldn't be more hurt ):," She added, "But they also said 'on the bright side he got to live a healthy lavish life of a popstar, not many hamsters coulda been the Biebs' #feelings."
Tori also posted a last picture of Pac with the caption, "I just wish he could get better. One final picture! He was OUR baby & @justinbieber I still can't thank u enough."
Bieber was initially criticized by the California Hamster Association for donating his little friend to Tori. The group accused the singer of "practicing a form of animal cruelty" because pets shouldn't be given to "unknowing recipients." The organization later backed down.
Copyright 2013 ABC News Radio