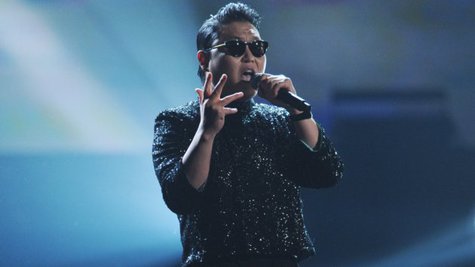 The inspiration for PSY 's worldwide hit "Gangnam Style," the Gangnam district in Seoul, South Korea is known for its high-fashion boutiques and plastic surgery clinics, as well as its beauty-obsessed inhabitants. That's why it's not so strange to hear that the rapper has launched his own line of men's skincare products.
According to The Hollywood Reporter , PSY was very involved in the development of the products, as well as their packaging and marketing. PSY's Energy Factory line of lotions, part of the Korean cosmetics line Somang, has sold an "impressive 200,000 bottles," in just over one month, according to The Hollywood Reporter, and is on target to sell about one million by the end of the year, especially among men in their 20s through 40s.
But that's not the limit of PSY stuff you can buy: the rapper's face is also on a series of limited-edition, pop-art postage stamps. Special packages of the stamps, which feature various colorized images of PSY doing his signature dance, along with postcards and a glass frame, are available on the Korean website Postar Art Shop .
The rapper announced last week that he will release the follow-up to "Gangnam Style" next month, and mark the occasion with a massive concert in Seoul.
Copyright 2013 ABC News Radio