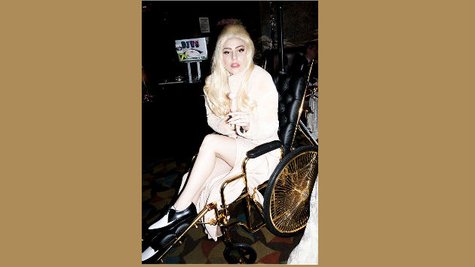 After a tweet from burlesque star Dita Von Teese revealed that Lady Gaga was alive, well and in New York City -- though in a wheelchair -- we now have photographic evidence.
Gaga's photographer pal Terry Richardson has posted a photo of the singer on her social networking site LittleMonsters.com, captioned "Lady Gaga in NYC." The photo shows the singer sitting in what must be the world's fanciest wheelchair: the back and arms are upholstered in what appears to be black leather, and the frame and wire wheels are gold. Gaga herself is wearing what looks like a white coat, and is showing off bare legs. She's also wearing two-tone loafers: no platform heels for this patient, who underwent surgery late last month to repair a tear in her hip.
Little Monsters are overjoyed to see Mother Monster looking so well, with comments ranging from "You are beautiful! Rock that wheelchair!" to the word "PERFECT" repeated 30 times.
In other Gaga news, the singer won't be marrying the night -- or her boyfriend Taylor Kinney -- this summer, despite rumors to the contrary. The British tabloid The Sun quoted Gaga's pal Lady Starlight as saying, "She's told me he's the one and you know that instantly when you see them together...From all I've heard, I don't think I'm dropping a secret by saying they are ready to get hitched this year."
However, a source tells E! Online that reports of an impending wedding are "definitely not true." And even if Gaga and Kinney did decide to tie the knot, there's a good chance we might not know about it. As she told Katie Couric in her 2011 ABC special A Very Gaga Thanksgiving , "My love life is the only thing I don't talk about. The day I get married, no matter how many helicopters are flying over that chapel, they are not getting one picture."
Copyright 2013 ABC News Radio