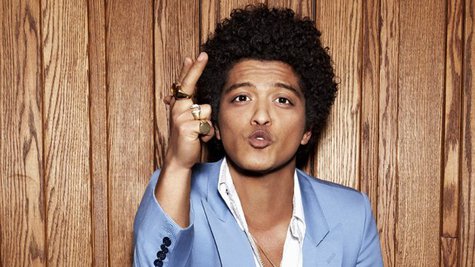 Bruno Mars ' album Unorthodox Jukebox came out in December, though it's only now ascended to the top of the Billboard album chart, thanks to Amazon putting it on sale for a ridiculously low price. But it's not like the album was a failure before: it debuted at #2, it's close to platinum certification and it's produced two top 10 hits: "Locked Out of Heaven" and "When I Was Your Man."
Bruno says that after the success of his debut album, Doo-Wops & Hooligans , he didn't want to make any artistic compromises. "It was really just me going into the studio and taking everything I learned in the past two years after the first album and everything I learned touring and, and really just pushing myself, lyrically [and] musically," the singer explains. He adds that he was inspired by "being free, having fun, doing what I love to do: going in the studio and creating."
The Grammy-winning singer, songwriter and producer is now preparing for his Moonshine Jungle world tour, which kicks off June 22 in Washington, D.C., and he says even though being on the road from June through November will be difficult, his fans make it all worth it.
"It can get hard at times when you're traveling so much," says Bruno. "But the payoff is being able to perform and sing to the people that bought your album...sing to the people that have made your music a part of their life."
He adds, "That's what keeps me going. It keeps me wanting to make more music."
Copyright 2013 ABC News Radio