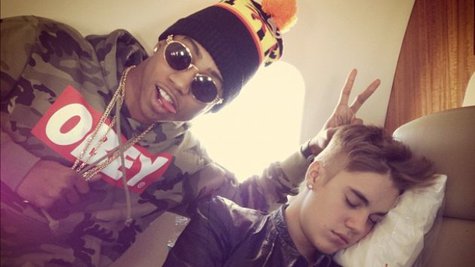 Justin Bieber 's pal Lil Twist has had another incident with the pop star's pricey Fisker Karma car.
TMZ.com reports Lil Twist struck cement poles outside a liquor store in San Fernando Valley, California, while driving the Fisker Karma on Tuesday evening. The front of the car was badly damaged.
TMZ says a BMW entered the parking lot a few minutes later, and its driver instructed Twist and Twist's passengers to pick up the broken pieces of the Fisker Karma and place them in the BMW. After doing so, Twist and company left in the BMW.
TMZ notes that Lil Twist did not exchange information with the liquor store owner, despite inflicting damage to the poles on the property.
Chris Brown 's camp has refuted a rumor that Chris was one of the passengers in the BMW.
Earlier this month, Lil Twist received a traffic ticket while driving the Fisker Karma. Twist was also pulled over by cops early this year after he took the Bieb's Ferrari for a high-speed ride through the streets of Los Angeles. At the time, a paparazzo filming the incident was struck and killed by another car.
Copyright 2013 ABC News Radio