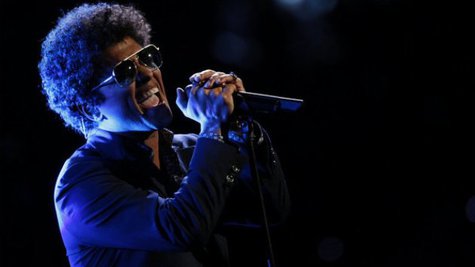 It may have been Bruno Mars's first rodeo Thursday night, but it was a huge success. The Houston Chronicle reports that Bruno's Thursday show at the annual Houston Livestock Show & Rodeo, a massive event that always includes numerous concerts, broke attendance records.
According to the Chronicle, Bruno drew 75,175 fans to Reliant Stadium, besting the previous record of 74,901 set last year when country superstar Jason Aldean performed. "Fellas, we made it to the rodeo," Bruno told the cheering crowd, before performing hits like "Locked Out of Heaven," "Marry You," "Billionaire," "Grenade," "When I Was Your Man" and more.
"If you got a lighter, put it up! If you got a fried Twinkie, put it up!" Bruno yelled before breaking into his signature tune, "Just the Way You Are." Closing the show, the singer told the crowd, "We ain't never done anything like this before. Thank you so much."
Afterwards, he tweeted , " Houston Im speechless. That was definitely a first. I hope they call us every year to play the rodeo. We had a blast. See you real soon ,"
The appearance was one of several one-off performances Bruno's doing before his Moonshine Jungle world tour kicks off officially this May. His next date is set for April in Dubai.
Copyright 2013 ABC News Radio