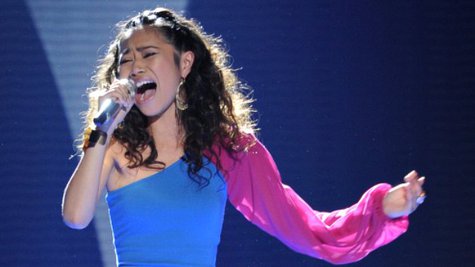 If watching this year's crop of American Idol contestants is making you long for the pitch-perfect performances of last year's runner-up, Jessica Sanchez , get psyched because you'll be seeing and hearing her soon, on Glee .
Jessica confirms to MTV those reports from last year that she's set for an appearance on Glee later this season. The show's finale is in May, so she'll be showing up soon, although she says she still doesn't have a script or a description of her character.
"I'll be taping very, very soon...I've been practicing my acting. It's like a whole new element for me. I've never acted before," says the singer, who came in second to Phillip Phillips last year on American Idol . She added, "I want to play somebody else and see how that feels, but I haven't gotten my script yet or know who I'm going to be playing, but I'm very, very excited."
Last year, Glee creator Ryan Murphy offered a hint to The Manila Bulletin about Jessica's role. "I would imagine she is going to be the big voice star of another competing choir who gives them a run for their money," Murphy said.
In othernews, Jessica has new music coming: her debut single, "Tonight" featuring Ne-Yo , is coming out soon, with a video as well.
Copyright 2013 ABC News Radio