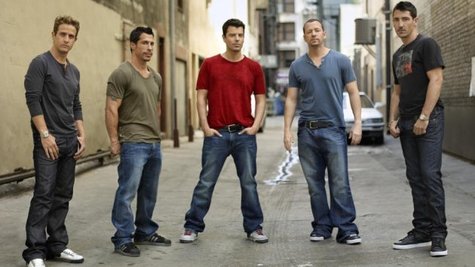 New Kids on the Block have unveiled the video for their new single "Remix (I Like The)," and the plot line is the fantasy of every girl who's ever been left on the sidelines at a social event.
The clip opens at what looks like a bridal shower, as the credits introduce actress Artemis Pebdani -- probably best known for playing Artemis in It's Always Sunny in Philadelphia -- as "the Lonely, Awkward Wallflower." She looks uncomfortable and unhappy on a couch, but when she goes into the bathroom and splashes water on her face, a transformation comes over her.
As the upbeat song kicks in, suddenly, Artemis begins tossing her mane of curly hair and dancing wildly all around the house while people watch in amazement. Even though she's a curvy girl, suddenly she's self-confident and sexy, sort of like Rebel Wilson . As she continues dancing up a storm, two other conventionally-pretty girls look on enviously. Finally, Artemis jumps into the backyard pool, and the other girls join her, performing a synchronized swimming routine with Artemis as the star.
While all this is going on, New Kids are performing in the backyard, decked out like a vintage soul group: think The Temptations . At the end of the clip, Artemis lures Donny Wahlberg off the stage to bump and grind with her while everyone goes nuts.
"Remix (I Like The)" is the first single from NKOTB 's new album 10 , which is due April 2. The group will kick off their Package Tour with Boyz II Men and 98 Degrees at the end of May.
Copyright 2013 ABC News Radio