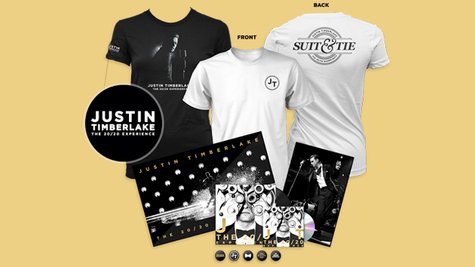 Some Justin Timberlake fans probably won't be content simply to purchase the star's new album, The 20/20 Experience, or even its deluxe edition. And for those fans who want more, Justin's got more -- if you've got the money.
Over at JustinTimberlake.com , you can order what's called a "Rare Collector's Bundle" version of the new album for $449. That scores you a CD and vinyl copy of the album, plus an instant download of "Mirrors," to start with. Then, you'll get a JT "Suit and Tie" logo tee, an "exclusive limited edition" black JT silhouette tee, and a pack of five buttons.
But wait...that's not all. The piece de resistance here is an 11 X 17 high-quality, numbered photo print of Justin performing at the Hollywood Palladium on February 10 -- that's the concert he did right after his Grammy appearance. Justin hand-picked the image himself, and signed each one.
Of course, if you don't have that kind of cash, there's always the "classic bundle," which gets you the album, the silhouette tee and the "Mirrors" download, for just forty bucks. Want to spend a bit more? The "deluxe bundle" gets you everything in the classic bundle, plus the special button pack and a JT poster. That'll set you back $55. Everything is available for order at JustinTimberlake.com.
The 20/20 Experience is due out March 19.
Copyright 2013 ABC News Radio