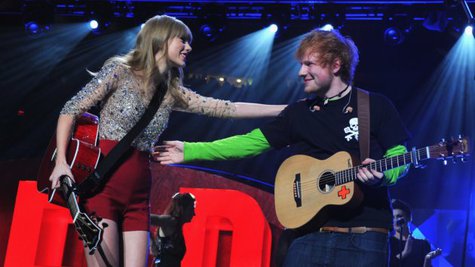 Ed Sheeran is once again denying that there's anything romantic between him and Taylor Swift , but he admits it's good for his image if people think someone like her would be attracted to a guy like him.
Speaking to the Australian radio show The Hot Hits , Ed reiterated that he and Taylor are not dating, but added, "I think the fact that people are believing I could date Taylor Swift quite impresses me."
Last year, Ed said that he doubted Taylor would be interested him because he's a "chubby" red-haired guy, while she tends to go for tall, handsome brown-haired dudes. But now Ed says, "The fact that people can believe it, it makes me seem like a bit of a stud, which is not necessarily true."
Ed also took to Twitter earlier this week to refute the rumors, and he says it's hard for him to get used to being a item of tabloid interest.
"I've never been properly like tabloid fodder before, ever. Like no one's ever cared about me in that way, which is good," he said. "Then suddenly within the last two weeks I am." That's why he says he's glad he has a powerful tool like Twitter to counteract the lies.
"If there is something untrue I can just say it's not true, and everyone that I need to see it sees it," he said.
Copyright 2013 ABC News Radio