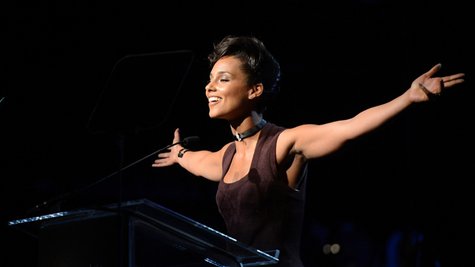 Alicia Keys ' swift transition from 19-year-old aspiring music star to Grammy Award-winning celebrity "was crazy." But it was also "everything I ever could of dreamed," Alicia says in a promo video for this Sunday's Oprah's Master Class.
"I was having the time of my life, but it's hard. It's a ton of work. It's very little sleep," Alicia says. "It's constant motion. Constant movement. Constant cities. Constant packing. Constant leaving. Constant flying. Constant going. Constant never-coming-backing."
Alicia, who broke onto the scene with her 2001 debut Songs in A Minor , says, "I didn't even know where I lived half the time."
The singer was meeting new people left and right, and some of them were saying whatever they had to say to get what they wanted from her, some downright lying. "So you're trying to discern," Alicia remembers that she had to stop and say to herself, "I'm uncomfortable with this -- wait."
She found herself having to break away from relationships and friends that were becoming unhealthy, she says. "It was just a whirlwind," Alicia explains. And "the only way to maintain that was to have a lion's focus and drive."
Alicia is the first star to be featured on the third season of Oprah's Master Class . Her episode airs Sunday at 10 p.m. ET/9 p.m. CT on OWN.
Copyright 2013 ABC News Radio