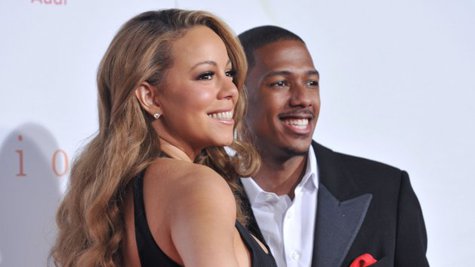 Mariah Carey and her husband Nick Cannon renew their marriage vows every year, usually in some spectacular way. Last year, they did it in Paris, but on Friday's Live with Kelly and Michael , Mariah hinted that their plans this year would be closer to home.
"We have a doozy planned for this year and it's kind of funny because it coincides with this whole Disney moment," Mariah explained, referring to the fact that her new song, "Almost Home," is featured in the new Disney film Oz the Great and Powerful.
"It's a moment! ...it's kind of more for the kids than us, but it's going to be cute," Mariah continued, seemingly indicating that Disneyland or Disney World would be the location for this year's festivities. Nick has also hinted recently that Disney is this year's choice.
Nick and Mariah's fifth anniversary is April 30th, which conveniently is also the second birthday of their twins, Monroe and Moroccan .
The singer and mom is also keeping busy judging contestants on Fox's American Idol , a job she says has taught her to respect the contestants. "I look at [the contestants] and I commend them for having the wherewithal to be in front of the world stage and just do what they do," Mariah said on Kelly and Michael .
When asked what she looks for in a potential Idol winner, Mariah said, "I wear a lot of different hats when I'm the judge because...I look at somebody and go, 'Wow. They're very marketable' and...that's something that's an asset. But then somebody else might have an incredible voice, but they need to work on...relaxing or their look or something about their demeanor."
Copyright 2013 ABC News Radio